NAME OF TRAIL: Knife Edge Trail
LANDOWNER: Los Alamos National Laboratory
TRAIL CHARACTERISTICS AND ACCESSIBILITY: This trail is accessible for the first portion as it is wide (over 6 ft) with a layer of loose gravel. The gravel ends approximately 1000 steps or so, and then it is generally a packed soil trail with many rocks. Although I was able to access it for about 1/2 mile it was very rocky, and I had to have assistance sometimes to get past the rocks. The trail became rockier as we progressed to the rim of White Rock Canyon. Because of the rocky nature of the trail, I would say this trail is generally inaccessible. This would be a good place to perch and observe while others hike further.
LOCATION: The trail is off State Route 4 towards Bandelier. The gate number is 3.
ACCESSIBLE RESTROOMS: None.
OTHER ASSESSMENTS: Hiking, Nature trips, Walking, Running, Dog friendly, Views, Wildlife, Rocky, No shade
***
DATE OF ASSESSMENT: May 18, 2021
TIME OF ASSESSMENT: Mid-day.
WEATHER CONDITIONS: Sunny.
EVALUATORS: Terry Foxx and Charles "Jim" Foxx, Erin and Ralph Chavez
MOBILITY DEVICE USED (e.g. motorized or self-propelled wheelchair, rollator walker): Drive Medical RTL10266 Nitro Euro Style Rollator Walker, Standard Height, 10 inch wheels, 23 inches wide at the base.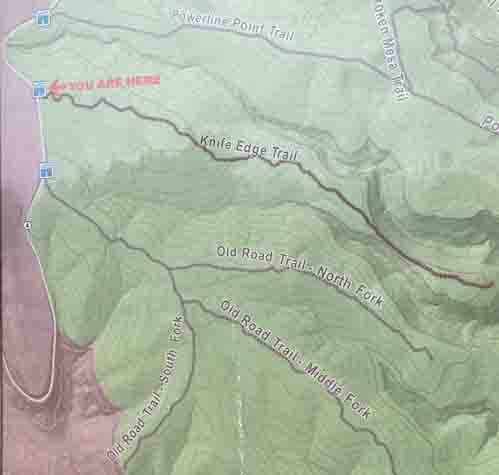 OTHER EQUIPMENT: Tape Measure App (by Level Labs LLC), My Altitude App (by Dayana Networks, LTD), Steps-Activity Tracker (Pedometer and Steps, Year of Code LLC).
TRAIL SIGNAGE: There is a sign at the beginning of the trail showing the trail, the length, and elevation change.
OVERALL TRAIL LENGTH: 2.4 miles out and back.
HOW MUCH OF THE TRAIL WAS EVALUATED?: Approximately 1/2 mile.
ELEVATION: 6564 ft at the beginning; 6583 ft at the rim.
ELEVATION CHANGE: 181 ft.
TRAIL WIDTH: 72 to 36 inches.
TRAIL SLOPE: The elevation difference is 181 ft., and the elevation change is from the sign to the end of the mesa. There is a downhill slope of about 3% or 2 degrees. Because of the downhill slope the Rollator must be pushed uphill on the return trip, which takes energy.
OBSTACLES/PROTRUDING OBJECTS: The first part is loose gravel and is accessible with the large-wheeled Rollator Walker. There is a short stretch of packed soil and gravel. The road is wide at this point, but as it progresses down the mesa it gets more and more rocky.
GATE WIDTH: The gate is about 36 inches wide, sufficient for the Rollator Walker.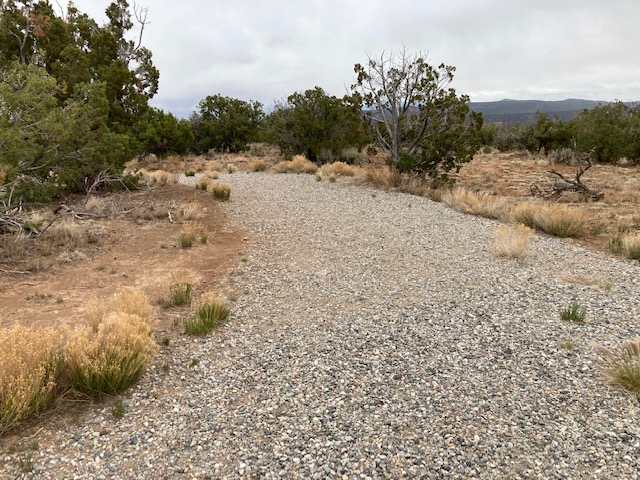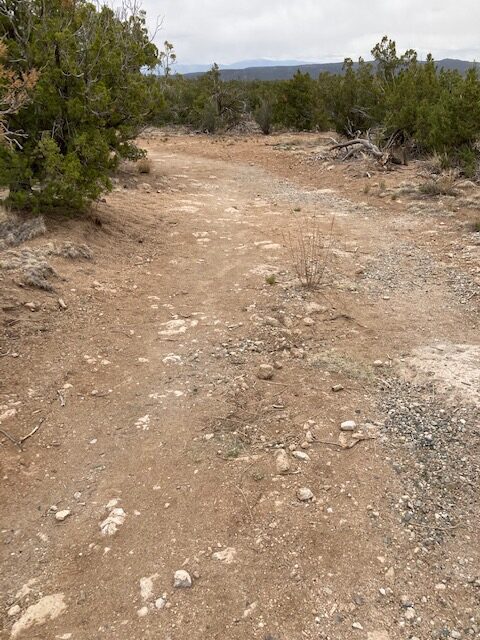 STEPS: None.
BENCHES OR OTHER RESTING PLACES: None.
RAILINGS: None.
SHADE: No shade.
TRAFFIC LEVEL: Light.
CONNECTING TRAILS: None.
ECOSYSTEM: Pinon/Juniper woodland with scattered Ponderosa Pine.
MAP: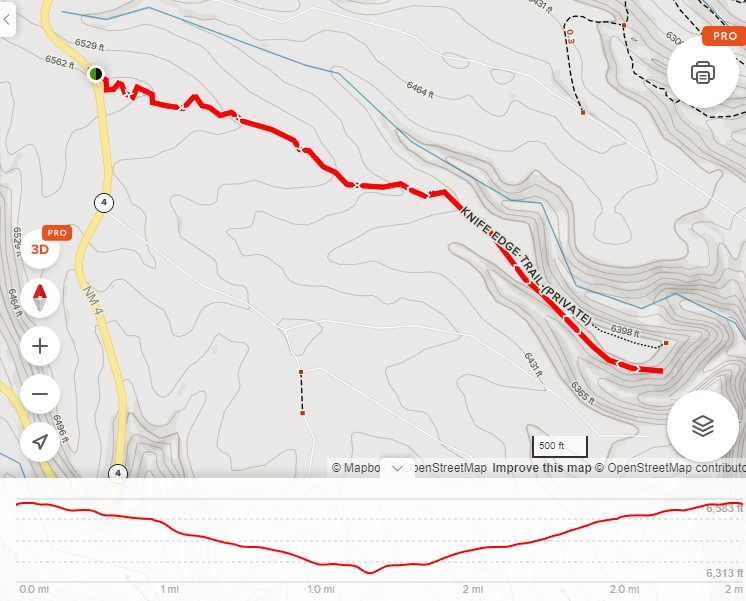 REFERENCES
The following references have been used in these observations:
Harrington, Cindy, 2017, "What Exactly is an Accessible Trail?", http://barrierfreetravels.com/2017/07/what-exactly-is-an-accessible-trail/. Accessed May 9, 2022.
"Access Considerations for Birding Locations, https://www.birdability.org/access-considerations. Accessed April 14, 2022.
Forest Service, U.S. Department of Agriculture, "Accessibility Resources", https://fs.usda.gov/managing-land/national-forests-grasslands/accessaability/resources. Accessed April 14, 2022.
Laws, John Muir, "John Muir Laws, Nature Stewardship Through Science, Education and Art", https://johnmuirlaws.com/deep-observation/. Accessed April 14, 2022.
Hoard, Dorothy, Los Alamos Outdoors, Los Alamos Historical Society, 1993.
Hoard, Dorothy, A Guide to Bandelier National Monument, Los Alamos Historical Society, 1989.
Rae, Coco, Hiking Trails in Valles Caldera National Preserve, University of New Mexico Press, 2020.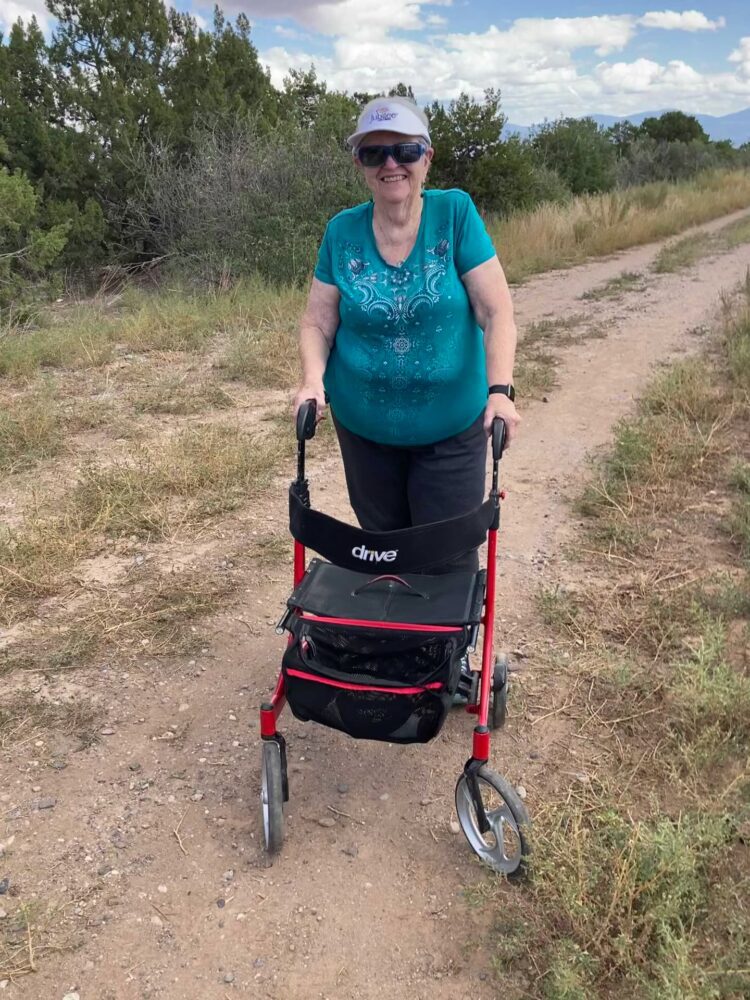 Disclaimer
The vision of the Los Alamos Nature Center is that being in nature is for everybody: adults, children, able bodied individuals or people with disabilities. This blog is presented here so an individual can make decisions for themselves as to the appropriateness of an individual trail. The items reviewed are at the suggestion of the Birdability.org.