NAME OF TRAIL: American Springs Road
LANDOWNER: Santa Fe National Forest within County of Los Alamos.
TRAIL CHARACTERISTICS AND ACCESSIBILITY: This area is accessible to a Rollator Walker. It is classified by Trailforks for Mountain bikes, and for hiking and running. There are rocks within the roadway and slopes making it more of a challenge. However, I have used the trail for classes related to wildfire and to plant identification using the Rollator Walker.
LOCATION: The beginning of the trail (as we defined it) is located 1/2 mile west of the large curve going towards the Valle Grande off State Route 4. The entrance is on the right hand side of the road, Forest Road 181, and is classified as usable by cars and trucks.
PARKING:  Sufficient parking for approximately six cars.
ACCESSIBLE RESTROOMS: None.
***
DATE OF ASSESSMENT: I have walked this a number of times for classes on plants. This evaluation is based on a May 21st visit.
TIME OF ASSESSMENT: Various times from early afternoon to late evening.
WEATHER CONDITIONS: Sunny and calm.
EVALUATORS: Charles "Jim" Foxx and Teralene "Terry" Foxx
MOBILITY DEVICED USED (e.g.. motorized or self-propelled wheelchair, rollator walker): Drive Medical RTL10266 Nitro Euro Style Rollator Walker, Standard Height, 10 inch wheels, 23 inches wide at the base.
OTHER EQUIPMENT: Tape Measure App (by Level Labs LLC), My Altitude App (by Dayana Networks, LTD), Steps-Activity Tracker (Pedometer and Steps, Year of Code LLC).
TRAIL SIGNAGE: None.
OVERALL TRAIL LENGTH:  3.8 miles total distance.
HOW MUCH OF THE TRAIL WAS EVALUATED?: The trail evaluation was done to American Springs; approximately 1/2 mile from State Route 4. This spring, and Apache Springs on the south side of the road, served as watering stops for cattle and sheep drives in the early years. Water Canyon was a major route from the valley to summer pastures in the Caldera. American Springs lies at the contact of welded tuff with the underlying Tschicoma dacites. A small flow of water discharges from the perched aquifer. In 1935, the CCC enclosed the spring in stone and concrete. (ref. Hoard, D.Los Alamos Outdoors. 1993)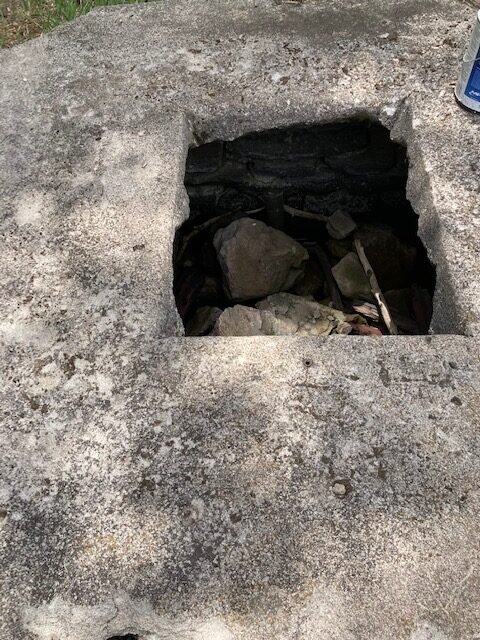 ELEVATION: The trail begins at 7687ft at West Jemez and Water Canyon. The maximum elevation is 8269ft. The trail ends, or begins, at an elevation of 8181 ft at St. Route 4, half a mile west of the large curve.
ELEVATION CHANGE: Total elevation change for the entire trail is 727 ft.
TRAIL SURFACE: Two-track dirt road are where people have driven enough times to form a road, but the ground has never been grated. They may require 4WD.
OBSTACLES/PROTRUDING OBJECTS:  Some rocks protrude out of the road. The trail is not very encumbered until after the gate. However, after the gate there are lots of rocks. Most of them are flat, making the traverse with the Rollator Walker easier, but still moving uphill. The surface is intermittently rocky.
GATE WIDTH:  Road width is approximately 11 ft. The gate can block the road in case of snow or wildfire. I have never experienced it closed in the 50 years I have been in the area.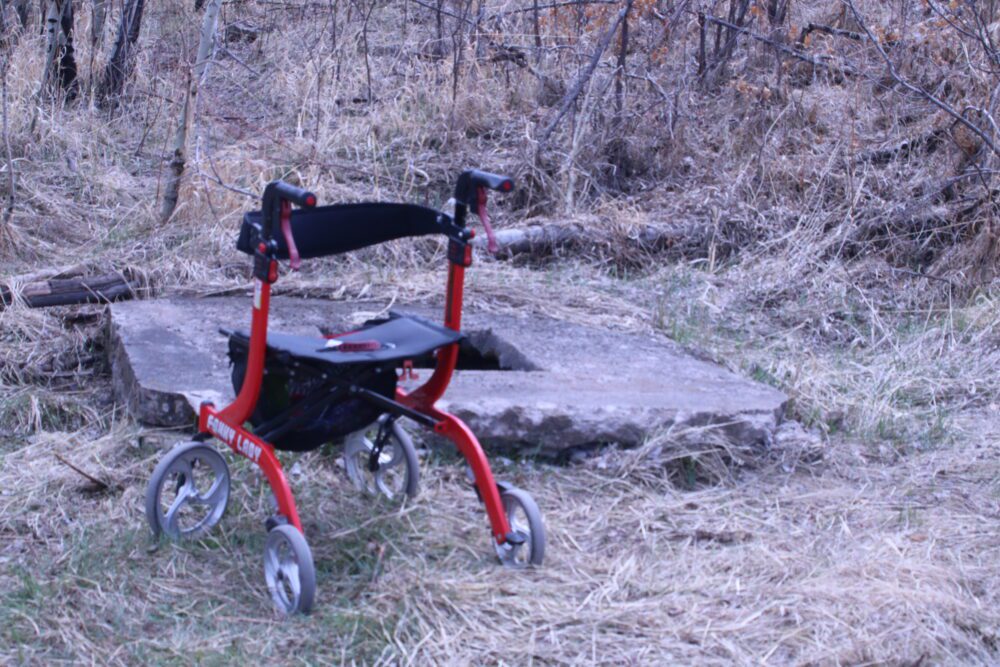 STEPS: None.
BENCHES OR OTHER RESTING PLACES: None.
SHADE: Sunny, little or no shade.
RAILINGS: None.
TRAFFIC LEVEL: This is a favorite wood gathering or camping area so there are pick-ups and other vehicles. There is also foot traffic.
CONNECTING TRAILS: Water Canyon Trail
ECOSYSTEM: The area has been burned and, therefore, is primarily an oak and aspen area. A few ponderosa pines, Douglas Fir and White Fir, still exist, especially in the area of the Springs. There is growth of aspen along the road and near the American Springs.
COMMENTS: This trail has been assessed numerous times, and, in 2019, I took a plant class into this area with the Rollator Walker. We made it to the spring on July 4, 2021 while I was re-assessing the trail for classes. I met a woman on the trail on the 4th and she jumped out of her car and said "Amazing! I can't believe you are doing this trail." She was from Alaska. We talked for awhile about why I was walking the trail and about Birdability. Nice comment of encouragement because going uphill is sometimes challenging even if it is only 10%!
MAP: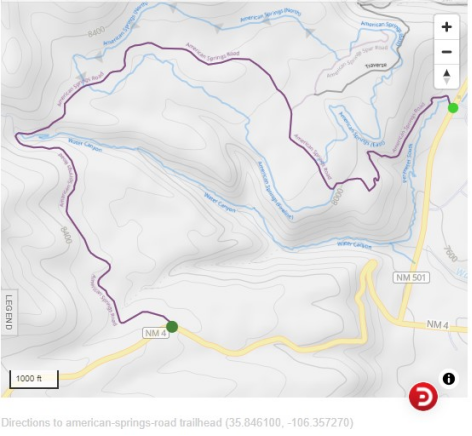 REFERENCES
The following references have been used in these observations:
Harrington, Cindy, 2017, "What Exactly is an Accessible Trail?", http://barrierfreetravels.com/2017/07/what-exactly-is-an-accessible-trail/. Accessed May 9, 2022.
"Access Considerations for Birding Locations, https://www.birdability.org/access-considerations. Accessed April 14, 2022.
Forest Service, U.S. Department of Agriculture, "Accessibility Resources", https://fs.usda.gov/managing-land/national-forests-grasslands/accessaability/resources. Accessed April 14, 2022.
Laws, John Muir, "John Muir Laws, Nature Stewardship Through Science, Education and Art", https://johnmuirlaws.com/deep-observation/. Accessed April 14, 2022.
Hoard, Dorothy, Los Alamos Outdoors, Los Alamos Historical Society, 1993.
Hoard, Dorothy, A Guide to Bandelier National Monument, Los Alamos Historical Society, 1989.
Rae, Coco, Hiking Trails in Valles Caldera National Preserve, University of New Mexico Press, 2020.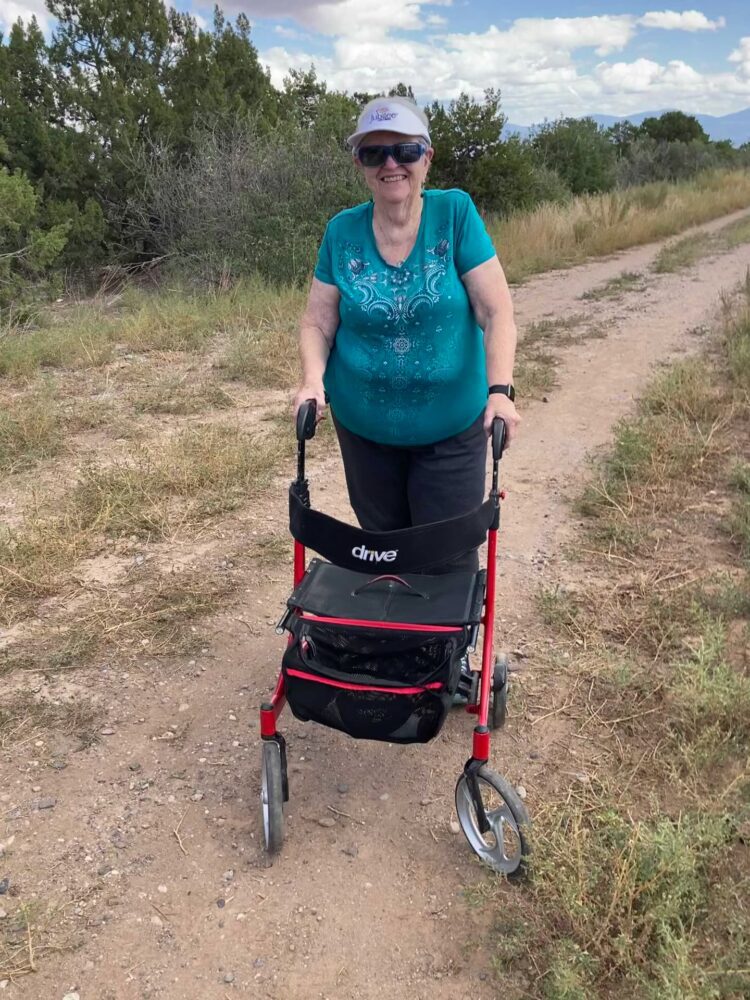 Disclaimer
The vision of the Los Alamos Nature Center is that being in nature is for everybody: adults, children, able bodied individuals or people with disabilities. This blog is presented here so an individual can make decisions for themselves as to the appropriateness of an individual trail. The items reviewed are at the suggestion of the Birdability.org.