NAME OF TRAIL: Canada del Buey Trail
LAND OWNER: Los Alamos County
TRAIL CHARACTERISTICS AND ACCESSIBILITY: One of my favorite trails in White Rock is Canada del Buey trail, and it is accessible to the Rollator Walker. The trailhead is a sidewalk that begins near the White Rock Gardens. The section I have often walked is from Meadow Lane to Rover Blvd., which is packed soil or chipped gravel with moderate slopes. It begins behind the United Methodist Church on Meadow Lane or across from the Senior Center on Rover Blvd. This short trail follows the arroyo called Canada del Buey that later falls into a deep canyon along the White Rock Canyon complex.
LOCATION: The trail begins off Meadow Lane behind the White Rock United Methodist Church. It follows Canada del Buey, at that point an arroyo. It drops 1000 ft into the canyon at the interface of White Rock Canyon. The water in the falls at that point is from the sewage treatment plant. The trail also begins off Rover Blvd. across from the White Rock Senior Center. Either access is a wide trail often used by walkers, runners, and bicyclists.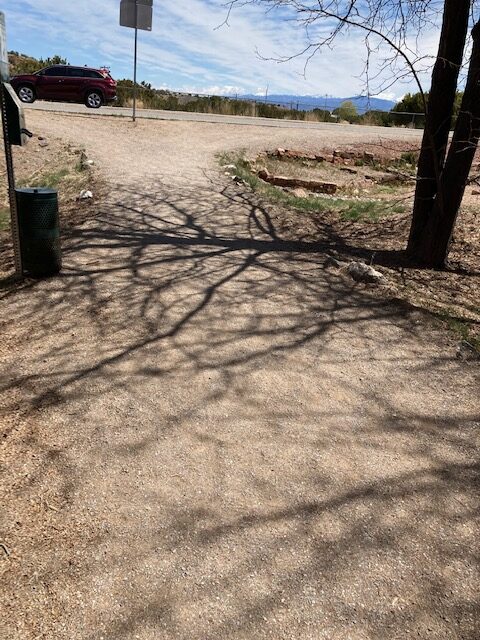 OTHER ASSESSMENTS: None.
****
DATE OF ASSESSMENT: May 29, 2021 and June 25, 2021
TIME OF ASSESSMENT: 9:00 AM
WEATHER CONDITIONS: Sunny
EVALUATORS: Terry Foxx ; Andy and Joanne Hogan
MOBILITY DEVICE USED (e.g. motorized or self-propelled wheelchair, rollator walker): Drive Medical RTL10266 Nitro Euro Style Rollator Walker, Standard Height, 10 inch wheels, 23 inches wide at the base.
OTHER EQUIPMENT: Tape Measure App (by Level Labs LLC), My Altitude App (by Dayana Networks, LTD), Steps-Activity Tracker (Pedometer and Steps, Year of Code LLC).
TRAIL SIGNAGE: None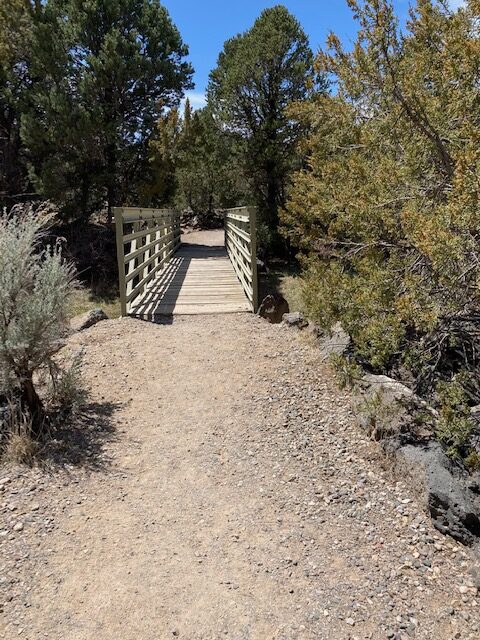 OVERALL TRAIL LENGTH: The trail is short; 0.8 miles.
ELEVATION: The beginning elevation is 6340 ft.
ELEVATION CHANGE: 22 ft.
HOW MUCH OF THE TRAIL WAS EVALUATED: The whole trail was evaluated in sections: from Rover Blvd. to the bridge (.38 mile) and from Meadow Lane to the bridge (.59 mile); according to the Steps App, slightly over .8 miles.
TRAIL WIDTH: Most of the trail is at least 36 inches wide and often is at least 72 inches wide.
TRAIL SURFACE: Packed soil covered by pea gravel. Bridges were concrete or wooden.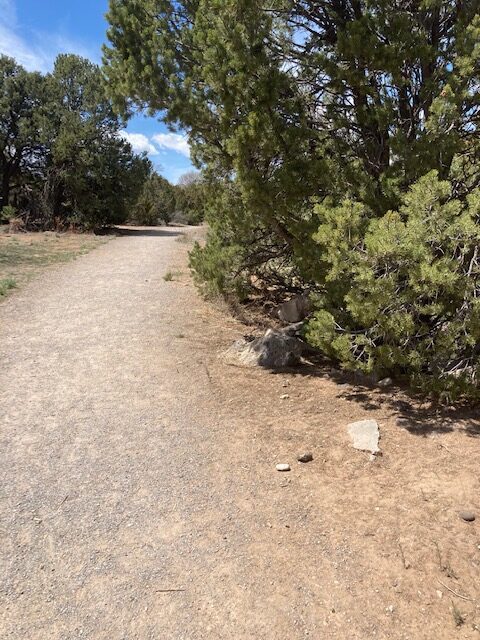 TRAIL SLOPE: Much of the trail is reasonably flat. At the bridge it is 6350.22 ft elevation and at the gate of Chamisa it is 6351.79 ft elevation; about a 10 ft elevation change. One slope is 4-7% slope for a distance. It is uphill towards Rover Blvd. starting from Meadow Lane.
OBSTACLES/PROTRUDING OBJECTS: There are no rocks along the trail but one arroyo crossing is concrete with embedded gravel. The trail is otherwise obstacle free.
ACCESSIBLE RESTROOM FACILITIES: None
GATE WIDTH: There are no gates at either trailhead, but walk-through along the trail was sometimes minimal in width. (see image below)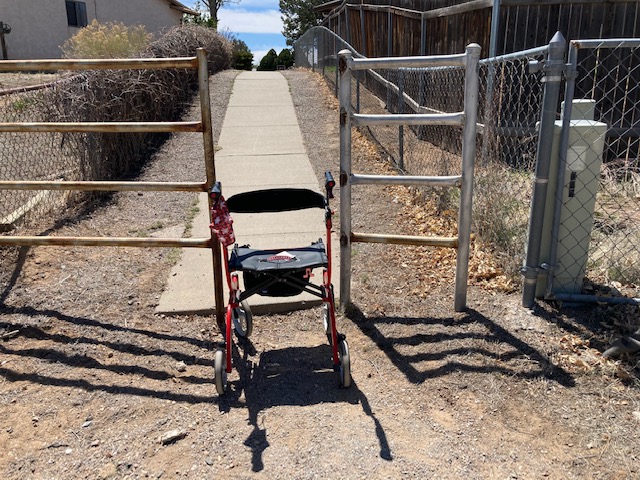 STEPS: None
BENCHES OR OTHER RESTING PLACES: None
SHADE: Beginning at the Meadow Lane portion there are trees that shade the trail periodically, however it is very open going from the Rover Blvd. side.
RAILINGS: None
TRAFFIC LEVEL: Frequently traveled by walkers and dog walkers.
CONNECTING TRAILS: None. One can walk down to the Overlook by crossing Meadow Lane near the beginning of the Canada del Buey Trail.
ECOSYSTEM: Pinon/juniper woodland with an under story of Big Sagebrush, Skunk-bush, and Wax-Currant.
MAP: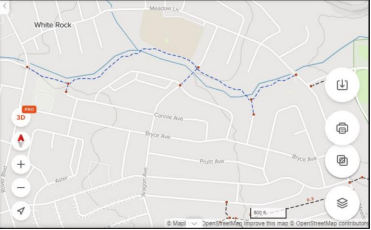 REFERENCES
The following references have been used in these observations:
Harrington, Cindy, 2017, "What Exactly is an Accessible Trail?", http://barrierfreetravels.com/2017/07/what-exactly-is-an-accessible-trail/. Accessed May 9, 2022.
"Access Considerations for Birding Locations, https://www.birdability.org/access-considerations. Accessed April 14, 2022.
Forest Service, U.S. Department of Agriculture, "Accessibility Resources", https://fs.usda.gov/managing-land/national-forests-grasslands/accessaability/resources. Accessed April 14, 2022.
Laws, John Muir, "John Muir Laws, Nature Stewardship Through Science, Education and Art", https://johnmuirlaws.com/deep-observation/. Accessed April 14, 2022.
Hoard, Dorothy, Los Alamos Outdoors, Los Alamos Historical Society, 1993.
Hoard, Dorothy, A Guide to Bandelier National Monument, Los Alamos Historical Society, 1989.
Rae, Coco, Hiking Trails in Valles Caldera National Preserve, University of New Mexico Press, 2020.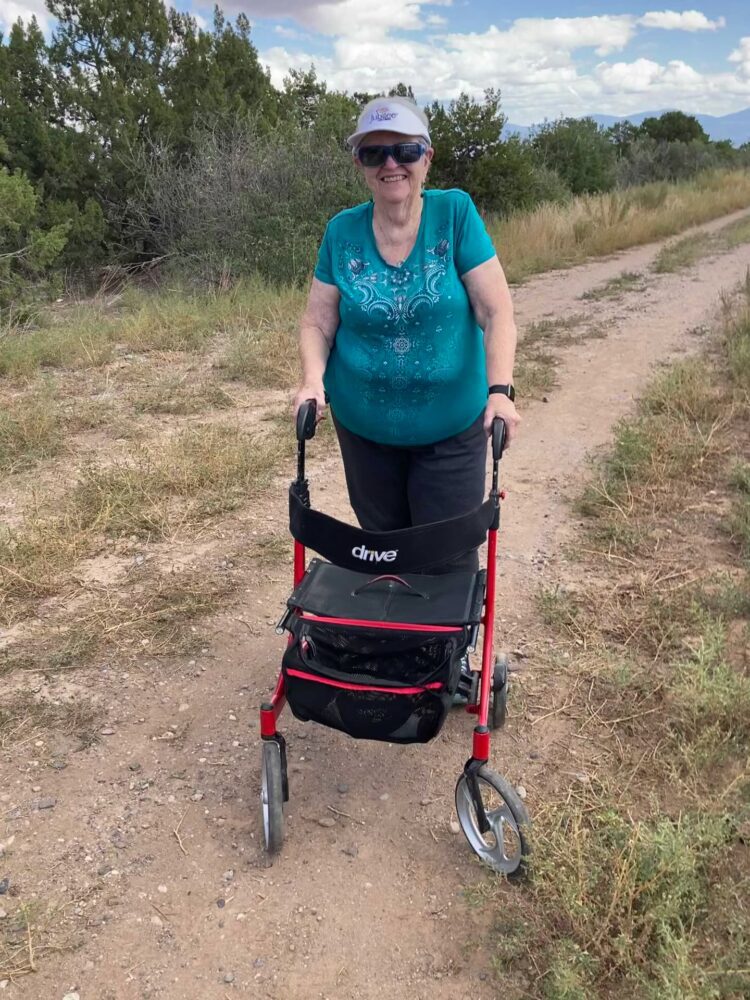 Disclaimer
The vision of the Los Alamos Nature Center is that being in nature is for everybody: adults, children, able bodied individuals or people with disabilities. This blog is presented here so an individual can make decisions for themselves as to the appropriateness of an individual trail. The items reviewed are at the suggestion of the Birdability.org.