NAME OF TRAIL: Mail Loop Trail
LANDOWNER: Bandelier National Monument. Visit the NPS website for more information about this trail and a map.
TRAIL CHARACTERISTICS AND ACCESSIBILITY: I was able to walk on the sidewalk with my Rollator Walker until the area near Long House, and enjoyed the recent improvements to this trail. The trail narrows and disintegrates after that. It was not possible for me to go to the caves as the terrain is steep and there are steps and ladders to some locations. Although this is a loop trail, you can retrace your steps from the area near Long House back to the main park building.
LOCATION: Behind the main park building at Bandelier National Monument.
PARKING: There is parking at the visitor's center and a shuttle bus that runs during the peak season. The shuttle goes from the White Rock visitor center to Bandelier and back to the visitor center. The shuttle runs every half hour from the visitor center and Bandelier. Visit the Bandelier website to learn more shuttle requirements, depending on the time of your visit.
***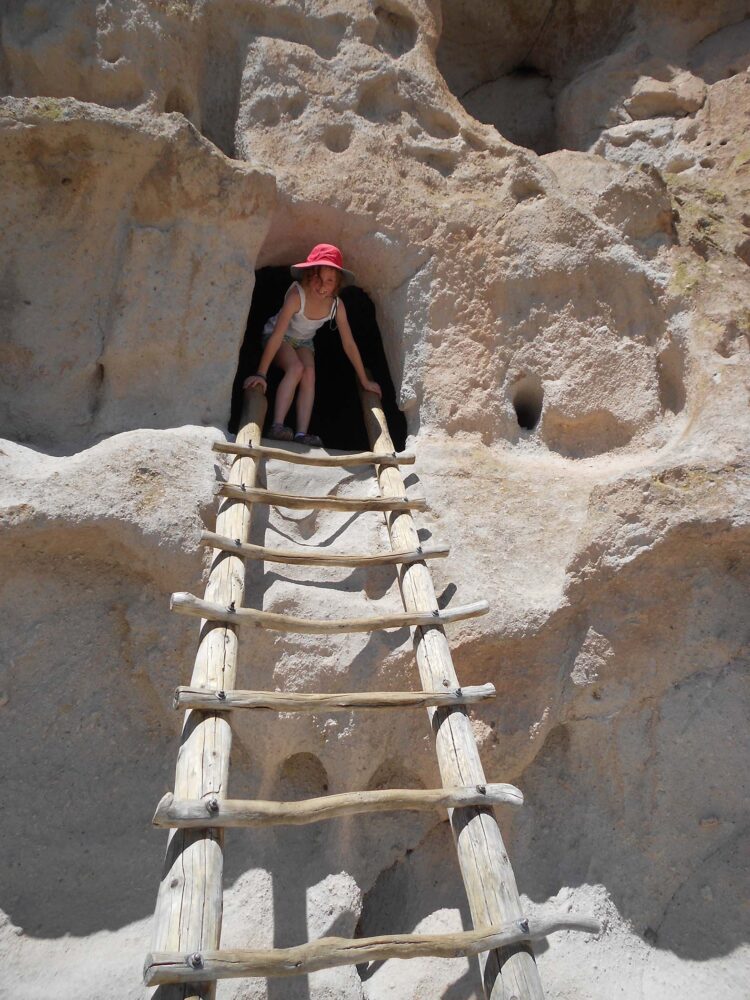 DATE OF ASSESSMENT: April 27, 2021
TIME OF ASSESSMENT: 9:30 AM
WEATHER CONDITIONS: Sunny
EVALUATORS: Keegan Tranquillo and Terry Foxx
MOBILITY DEVICE USED (e.g. motorized or self-propelled wheelchair, rollator walker): Drive Medical RTL10266 Nitro Euro Style Rollator Walker, Standard Height, 10 inch wheels, 23 inches wide at the base.
OTHER EQUIPMENT: Tape Measure App (by Level Labs LLC), My Altitude App (by Dayana Networks, LTD), Steps-Activity Tracker (Pedometer and Steps, Year of Code LLC).
TRAIL SIGNAGE: There are trail signs that describe different areas along the trail. More information on this trail is also available in the park visitor's center.
OVERALL TRAIL LENGTH: 1.4 miles
ELEVATION: 6,064 feet at the beginning of the trail.
ELEVATION CHANGE: 219 ft (www.alltrails.com). However, these elevation changes were not in the section we evaluated. To see the cavates, you must go to the cliff side. There are stairs and ladders. The trail is flat or gently sloping.
HOW MUCH OF THE TRAIL WAS EVALUATED?: From the visitor center to the Long House and the lower portion of the trail. We did not attempt to go to the cavates due to the steepness, ladders, and trail aspects.
TRAIL SURFACE: Sidewalk.
TRAIL SLOPE: Portions of the trail go to the cliff side. This area was not evaluated because there are stairs and ladders.
OBSTACLES/PROTRUDING OBJECTS: The sidewalk is free of obstacles.
ACCESSIBLE RESTROOMS: Restrooms are within the building at the visitor's center.
GATE WIDTH: None.
STEPS: There are no steps along the main trail. There are some steps and ladders up to the cavates, but they can be avoided.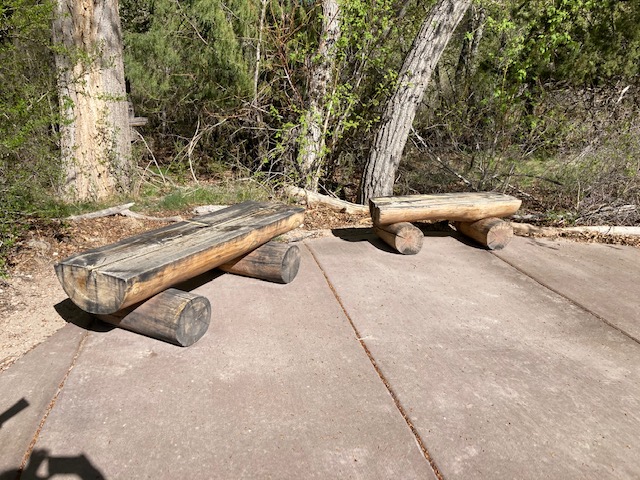 BENCHES OR OTHER RESTING PLACES: There are benches along the trail. However, the benches are very low and could be difficult for some people.
SHADE: Some areas are shaded by trees, but much of the trail is open and sunny.
RAILINGS: None.
TRAFFIC LEVEL: Busy.
CONNECTING TRAILS: The trail to Alcove House and the Frey Trail from the mesa.
ECOSYSTEM: A stream-side ecosystem with Narrowleaf Cottonwood, Boxelder Maple, and Ponderosa Pine. Frijoles Creek has picnic areas along it that add to the ambiance of the area.
COMMENTS: In the past, this trail was very difficult and may not have been accessible for people with disabilities. It had potholes and was very rough. However, the upgrade done in approximately 2020 has made it a much easier trail to walk. It is a welcome development. For those visiting Bandelier, you should know that Bandelier National Monument charges a fee to enter. Fees are per vehicle or per motorcycle. If you are entering on foot or bike, the fee is per person. You can also purchase a park-specific annual pass. Learn more about visiting Bandelier here.
MAP: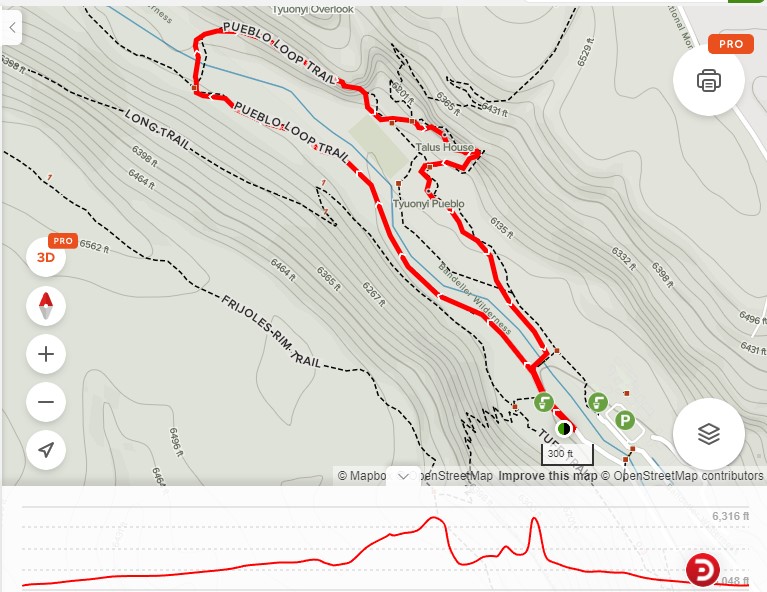 REFERENCES
The following references have been used in these observations:
Harrington, Cindy, 2017, "What Exactly is an Accessible Trail?", http://barrierfreetravels.com/2017/07/what-exactly-is-an-accessible-trail/. Accessed May 9, 2022.
"Access Considerations for Birding Locations, https://www.birdability.org/access-considerations. Accessed April 14, 2022.
Forest Service, U.S. Department of Agriculture, "Accessibility Resources", https://fs.usda.gov/managing-land/national-forests-grasslands/accessaability/resources. Accessed April 14, 2022.
Laws, John Muir, "John Muir Laws, Nature Stewardship Through Science, Education and Art", https://johnmuirlaws.com/deep-observation/. Accessed April 14, 2022.
Hoard, Dorothy, Los Alamos Outdoors, Los Alamos Historical Society, 1993.
Hoard, Dorothy, A Guide to Bandelier National Monument, Los Alamos Historical Society, 1989.
Rae, Coco, Hiking Trails in Valles Caldera National Preserve, University of New Mexico Press, 2020.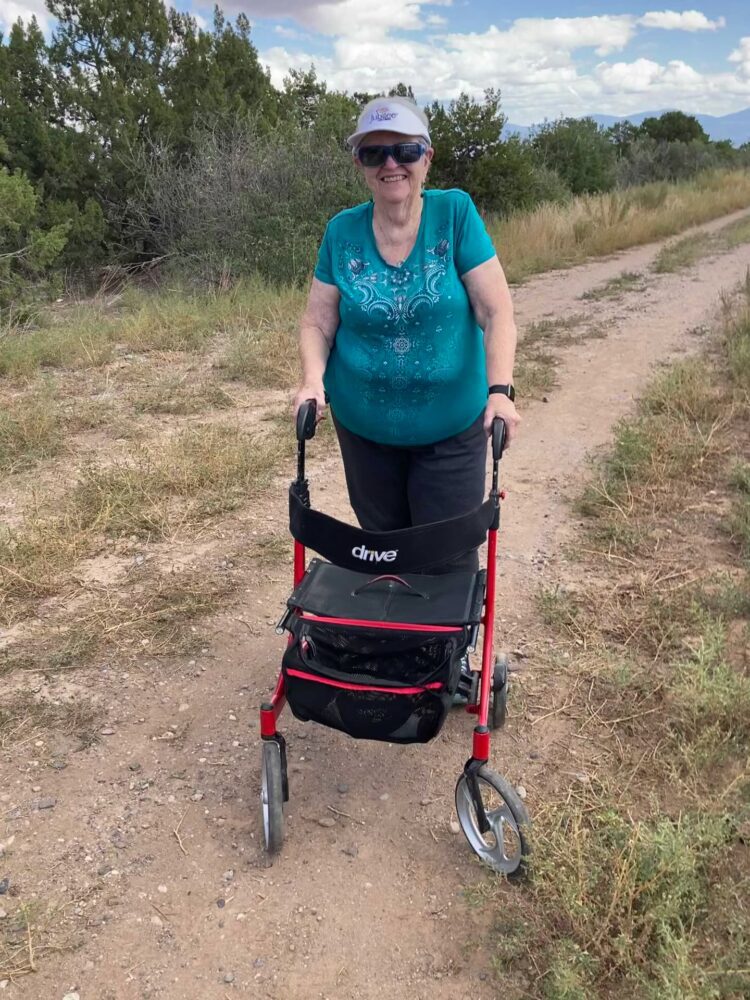 Disclaimer
The vision of the Los Alamos Nature Center is that being in nature is for everybody: adults, children, able bodied individuals or people with disabilities. This blog is presented here so an individual can make decisions for themselves as to the appropriateness of an individual trail. The items reviewed are at the suggestion of the Birdability.org.