NAME OF TRAIL: Old Road Trail
LAND OWNER: Los Alamos National Laboratory
TRAIL CHARACTERISTICS AND ACCESSIBILITY: The trail is primarily a foot trail and, because of the rockiness, walking poles could be helpful. This trail was difficult for me to navigate with my Rollator walker and I would not recommend it for someone with more limited abilities because the Rollator had to be lifted over some rocks.
LOCATION: Located off of State Road 4 at Gate 2. This trail is on Los Alamos National Laboratory's property and is maintained by LANL, but it is open for public use. Click here to read more information about Old Road Trail on the Lab's website. To help you find this trail, we have also marked Old Road Trail on this map by LANL.
PARKING: Dirt pullout area off of State Road 4. There is a gate between the parking area and trail, which has about a 3-foot wide passage.
***
DATE OF ASSESSMENT: May 1, 2021
WEATHER CONDITIONS: Sunny and warm.
EVALUATORS: Teralene (Terry Foxx) and Charles "Jim" Foxx
MOBILITY DEVICE USED (e.g. motorized or self-propelled wheelchair, rollator walker): Drive Medical RTL10266 Nitro Euro Style Rollator Walker, Standard Height, 10-inch wheels, 23 inches wide at the base.
OTHER EQUIPMENT: Steps App to measure walking distance, Tape Measure App to measure trail width.
TRAIL SIGNAGE: There are Los Alamos National Lab trail signs.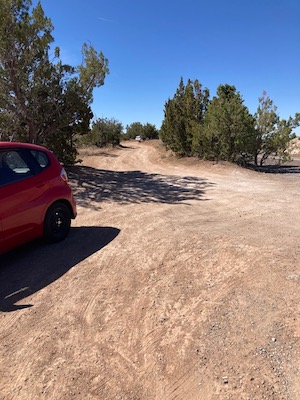 OVERALL TRAIL LENGTH: 1.5-miles round-trip. Only 1-mile round-trip was evaluated, with effort. I stopped at Powerline Trail that intersected the trail after about 0.5 miles.
ELEVATION CHANGE: 180 feet of elevation change.
TRAIL SURFACE: Packed dirt with rocks.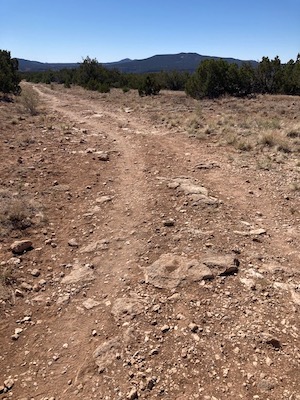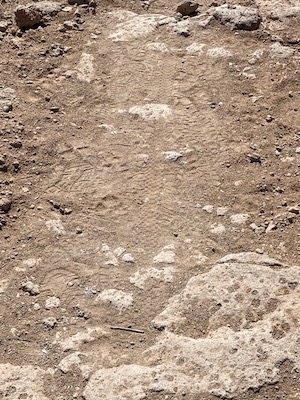 ACCESSIBLE RESTROOM FACILITIES: None.
GATE WIDTH: 3′ wide.
STEPS: None.
BENCHES OR OTHER RESTING PLACES: None.
SHADE: The trees do not shade the trail. It is very exposed.
RAILINGS: None.
TRAFFIC LEVEL: Fairly quiet. The trails off of State Road 4 can get busy on weekends. We encountered one person on a bicycle.
CONNECTING TRAILS: It intersects with a spur of the Powerline Trail approximately 0.5 miles from the start.
ECOSYSTEM: Piñon-juniper woodland.
COMMENTS: This trail was previously an old road and has wheel tracks from its former use.The trail is intermittently very rocky. Occasionally the Rollator would get stuck on rocks, but the trail was marginally doable for me up to the Powerline junction. Rocky areas were interspersed with packed soil, which I could easily transverse. However, sections with the car wheel tracks were much more difficult because the tracks were only about 17 inches wide. My Rollator is 23 inches wide. This meant the Rollator wheels got tangled in the grass or one wheel needed to be rolling in the grass and the other in the tract making the Rollator list considerably. My husband continued, on foot, to the end of the Middle Fork to view White Rock Canyon. He said the trail got extremely rocky near the end. I found waiting (perching) allowed me to see a Western Bluebird and Common Raven, a beautiful sky, and other nice aspects of nature. However, there is no shade along this trail.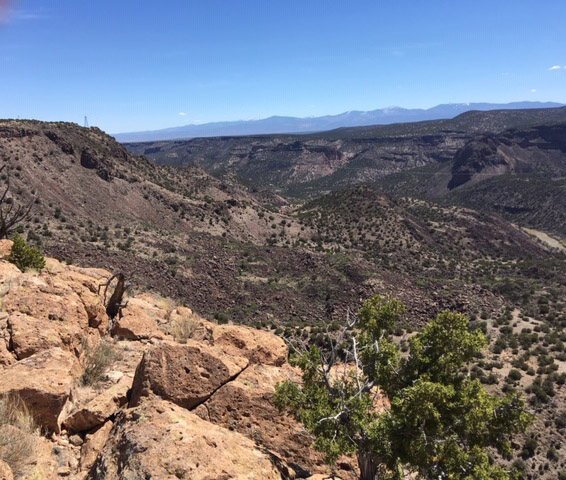 REFERENCES
The following references have been used in these observations:
Harrington, Cindy, 2017, "What Exactly is an Accessible Trail?", http://barrierfreetravels.com/2017/07/what-exactly-is-an-accessible-trail/. Accessed April 14, 2022.
"Access Considerations for Birding Locations, https://www.birdability.org/access-considerations. Accessed April 14, 2022.
Forest Service, U.S. Department of Agriculture, "Accessibility Resources", https://fs.usda.gov/managing-land/national-forests-grasslands/accessaability/resources. Accessed April 14, 2022.
Laws, John Muir, "John Muir Laws, Nature Stewardship Through Science, Education and Art", https://johnmuirlaws.com/deep-observation/. Accessed April 14, 2022.
Hoard, Dorothy, Los Alamos Outdoors, Los Alamos Historical Society, 1993.
Hoard, Dorothy, A Guide to Bandelier National Monument, Los Alamos Historical Society, 1989.
Rae, Coco, Hiking Trails in Valles Caldera National Preserve, University of New Mexico Press, 2020 .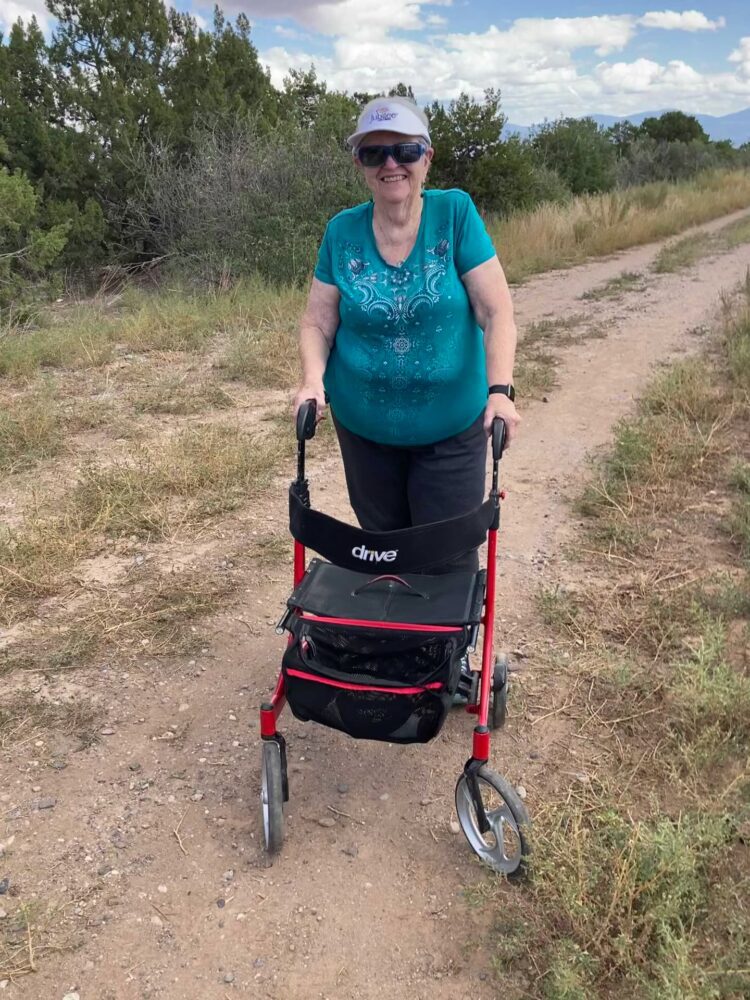 Disclaimer
The vision of the Los Alamos Nature Center is that being in nature is for everybody: adults, children, able bodied individuals or people with disabilities. This blog is presented here so an individual can make decisions for themselves as to the appropriateness of an individual trail. The items reviewed are at the suggestion of the Birdability.org.