By Terry Foxx
In this blog I will point out trails that are inaccessible, in my opinion, for a Rollator Walker. This information may help you decide whether you want to try a trail.
Red Dot Trail and Blue Dot Trail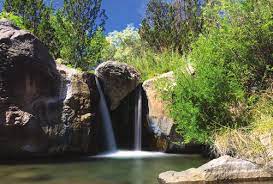 Both of these trails ascend into White Rock Canyon, which is over 1200 ft deep. There is limited shade along the trail. I have considered challenging myself by hiking into the canyon, but realized it would be a "killer" to come out. Once you go downhill you must push the Rollator Walker uphill! Consider these trails carefully before putting them on your bucket list. All Trails classifies it as moderately difficult.
White Rock Canyon Rim Trail
Through the years I have walked portions of this trail and enjoyed the views, but it is very rocky and very narrow. It extends from the White Rock Overlook to where Pajarito Canyon spills into White Rock Canyon. The trail has not been developed. It is not a trail I would take my Rollator Walker on at this time. The trail length is 2.7 miles according to All Trails. You can get views of the canyon from the White Rock Overlook or Kimberly cul de sac, but the rocks hinder getting to the rim or walking to the entire trail.
Camp Hamilton Trail into Pueblo Canyon
I love history and the trails that we know have history. I wish I had visited this trail when I was able-bodied. However, every time I go up the Main Hill road and see the trail it reminds of the importance of history. Read Sharon Snyder's blog to learn more of the history of this trail.
The cabin was built by F. Coomer in 1918 as part of his business leading tourists to the tent rocks located further west in Pueblo Canyon. In 1926, the Hamilton family donated funds for the Los Alamos Ranch School to purchase the cabin to use as an outpost for camping. The trail was built by students of the Ranch School in the 1930s. It took the boys from the mesa-top into Pueblo Canyon. Within Pueblo Canyon there was a small cabin, a favorite place for winter activities. The beginning of this trail can be seen from New Mexico State Route 501 as you ascend to the mesa top. The trail is moderately challenging according to All Trails. It drops over 500 ft into Pueblo Canyon.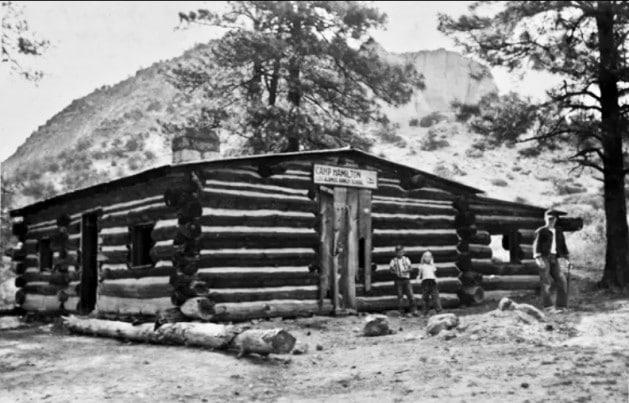 Apache Springs to Ponderosa Campground or Upper Crossing Trail to Apache Springs within Frijoles Canyon
This is a challenging trail that can start either at the rim of Frijoles Canyon at Apache Springs or at the rim of Frijoles Canyon along the Upper Crossing Trail from the Ponderosa Campground. I was able to walk a portion of the Apache Springs trail, which is a great trail for perching and observing. See my blog on that portion.
Both of these trails go through the footprint of the La Mesa Fire (1977), the Cerro Grande Fire (2000), and portions of the Las Conchas (2011) fire. The Upper Crossing Trail is very rocky, and I was unable to walk the trail due to these large rocks.
The trail area I walked with the Rollator Walker and the area that was too steep for my Rollator Walker. Here I sat on my Rollator Walker and observed the area. I spied a little crab spider on a flower, something I would have missed if I hadn't stopped, used my senses, and enjoyed my surroundings.
REFERENCES
The following references have been used in these observations:
Harrington, Cindy, 2017, "What Exactly is an Accessible Trail?", http://barrierfreetravels.com/2017/07/what-exactly-is-an-accessible-trail/. Accessed May 9, 2022.
"Access Considerations for Birding Locations, https://www.birdability.org/access-considerations. Accessed April 14, 2022.
Forest Service, U.S. Department of Agriculture, "Accessibility Resources", https://fs.usda.gov/managing-land/national-forests-grasslands/accessaability/resources. Accessed April 14, 2022.
Laws, John Muir, "John Muir Laws, Nature Stewardship Through Science, Education and Art", https://johnmuirlaws.com/deep-observation/. Accessed April 14, 2022.
Hoard, Dorothy, Los Alamos Outdoors, Los Alamos Historical Society, 1993.
Hoard, Dorothy, A Guide to Bandelier National Monument, Los Alamos Historical Society, 1989.
Rae, Coco, Hiking Trails in Valles Caldera National Preserve, University of New Mexico Press, 2020.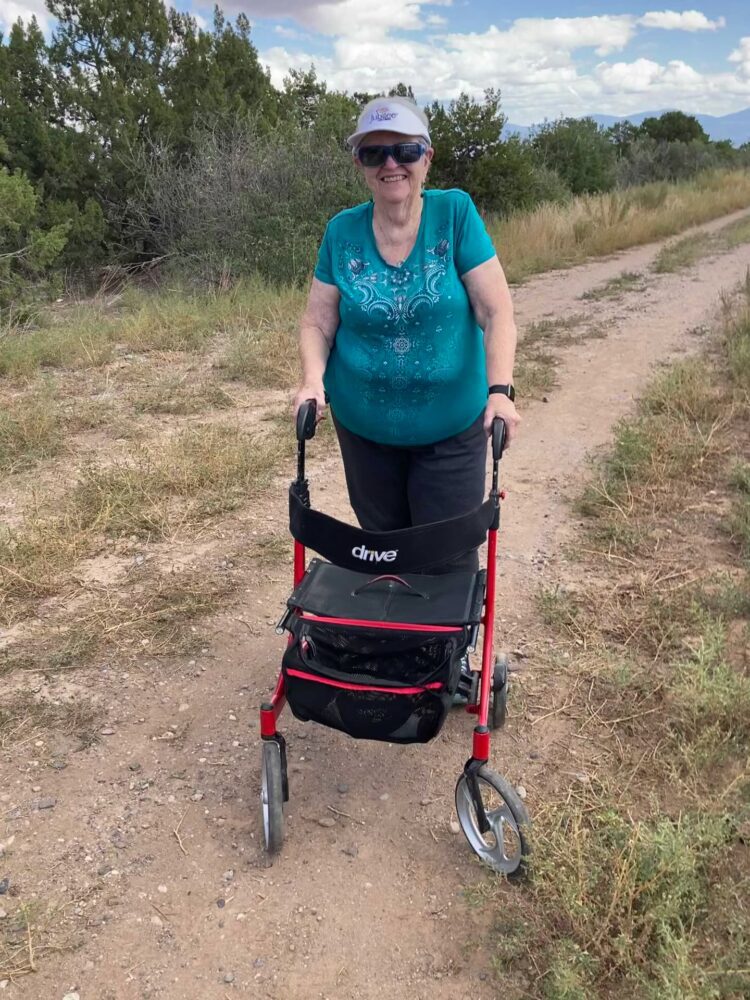 Disclaimer
The vision of the Los Alamos Nature Center is that being in nature is for everybody: adults, children, able bodied individuals or people with disabilities. This blog is presented here so an individual can make decisions for themselves as to the appropriateness of an individual trail. The items reviewed are at the suggestion of the Birdability.org.